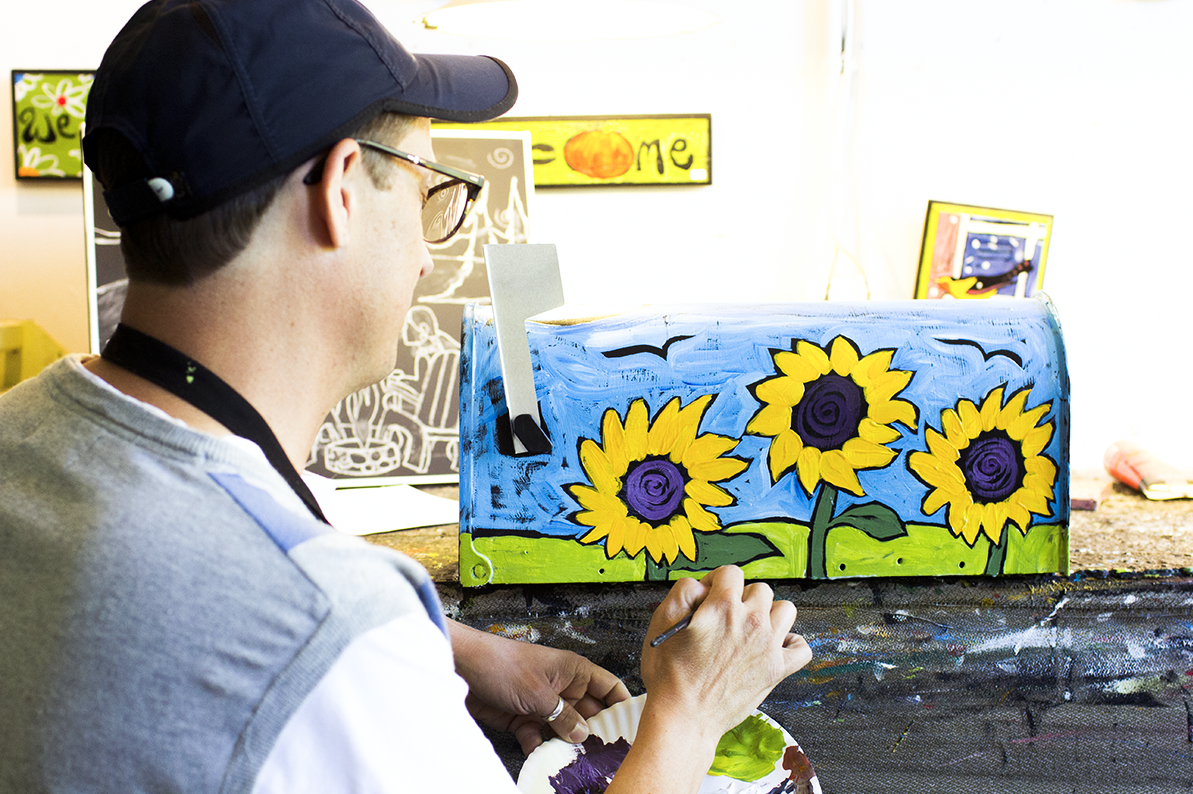 Ben is happy to connect easel-side, with friends and clients mid-week during this busy season. Please contact him ahead by phone or email to schedule your visit!
In his signature style, Ben depicts YOUR adorable abode and family with whimsical authenticity~ in any dimensions you request. The resulting art is an instant heirloom that can also lend itself to print on your personal Christmas cards, etc. See more examples here!
Client Testimonial:
"Our home is so much more than bricks and mortar - it's a buzzing, happy, messy hive filled with busy boys, a menagerie of animals, and two people still crazy in love after all these years. With this work, Ben has managed to distill these qualities of our everyday life into a painting in a way that photography simply cannot. He worked closely with us to capture the details that were important while at the same time giving us a new, fresh perspective on our home. We look forward to enjoying this for many years, and as a family that has needed to move every so often, we are comforted knowing that we'll always have a piece of home, wherever our travels may take us."
Ben enjoys working on murals, both public and private, and offers a wide variety of subject matter/dimensions.
His most recent murals have been painted not directly on client walls, but rather on 1/4 inch plywood panels which can be painted in his studio and then swiftly mounted to the client walls in their home or business. This gives flexibility to the artwork/scheduling and also makes for big impact, and should client needs change or houses sell, the artwork is readily able to be dismantled and transported with ease.
Ben also offers a unique service to nonprofit agencies that are looking to add a uniquely kinetic buzz to their annual fundraising auction efforts!
For a flat $500 fee, Ben Mann shows up with a Northwest themed canvas in progress, which he completes during the event while he engages easily with event patrons. But wait! There's more! The winning bidder on said canvas will actually be incorporated into the existing design! Nonprofit agencies pay Mann a flat $500 fee and invariably such canvases auction off for well over that fee. Please inquire with Ben for further information and calendar availability.
Let Ben's brush propel yours~ One-on-One or Group tutorials for all ages. $100/ person for your 90-minute session, includes all supplies for your own take-home painting. By appointment
The yellow house portrait (above left) was created under Ben's tutelage, and the student artist was kind enough to relate how it went down:
"We met in Ben's studio where we were surrounded by his finished paintings. He placed two prepared canvases on the counter, took out two pieces of chalk, put one in my hand, took the other in his, and began sketching while explaining what he was doing and why. We painted side-by-side, and the hours flew by. I was able to ask him question after question, and his responses flowed easily as one would expect of someone who has a mastery of his craft.
Too soon, it was time to go. I did not finish my painting during the class, but had the information I needed to complete it on my own. After finishing about half of the painting, I stopped and took stock. My painting still had no movement! I studied Ben's pieces again, paying special attention to how he lays down his colors. I re-worked my painting and went on to complete it. I am pleased with the outcome, but I see plenty of changes to incorporate into my next painting. Thank-you Ben, for an excellent learning experience at which time you shared equal parts skill and encouragement."
~David, age 61
A fun and personal gift idea! Ben's Studio Gift Certificates are available in any denomination, and can be redeemed exclusively at his studio -- either for paint tutorials, finished artworks, or customized paintings!
No expiration
Ben Mann Studios are located at 1000 Harris Avenue at the corner of Tenth St. (entry is in between Artwood Gallery and Good Earth Pottery) Third Floor walk-UP, Studio #18. Think of it as culture with cardio! By Appointment